Book's Description:
Girlfriend Please! Snap out of it! He's not worth it! is a personal and inspirational read for any woman who needs to hear words of support while going through a break-up or in a bad relationship.
It shares true stories of the unnecessary and extreme heartache endured in the name of love.  Each true story is followed by a lesson with relative positive metaphors that open the mind and heart to an awareness not easily recognized by the self-tortured heart.
After the lessons are pages to write your feelings, "Today I feel",followed by a "Today I will", a daily "to do" to ensure good feelings.
The included Snap Band (TM) (with disclaimer) is designed to be a reminder to create and keep peace in the heart at all times.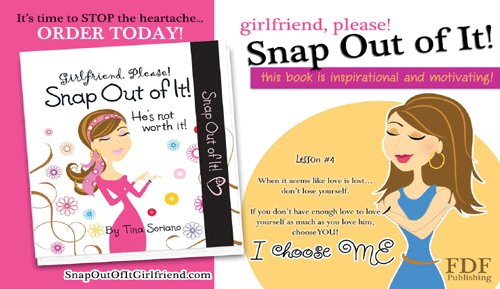 For Retailer's Pricing
Email:info@snapoutofitgirlfriend.com
 (562) 743-0869
FDF Publishing ~Whittier, Ca.
About the
Tina Soriano is a first time author.  A now middleaged woman whose main desire in life was spent in search of "True Love".  After too many years spent in love with the wrong men and too many heartbreaks, Tina persevered and as a result acquired a love of self.  Inadvertently she learned in order to get the love you deserve you must give it to yourself first.  Realizing the years she spent unhappy had she loved herself morn then, it still might not have led to "True Love" any earlier, but it could have been spent evolving her character.
Her passion to write "Girlfriend Please!" Snap out of it!" is two-fold: First, to inspire women who are as she was with the desire to change from within through an easy to read book.  Tina accomplishes this by boldly unveiling her life's weaknesses, self-created dramas and revelations.
Secondly, proudly, Tina donates from each book sold to the welfare of animals.  To her, this brings peace to her heart.